We can help you.
Achieve greater profits, performance and growth.
Since 2002, we have advised organizations in industries as diverse as manufacturing, technology, construction, distribution, professional services, financial services, retail, and non-profit. We are hired to give unbiased advice about strategic direction, and to operationally execute strategy.
Identify emerging business opportunities, and move quickly to capture them.
Anticipate competitor moves, market changes, and new technologies to gain a competitive advantage.
Execute top priorities in a focused way to accelerate the impact of strategic initiatives to the bottom line.
Learn five reasons to choose Profit Strategies. To find out more contact Bonita, or call 847.989.0513.
Click here to view or download a PDF brochure.
What we can do for you:
Discover new ways to create value for customers and investors
Adopt new approaches to improve profitability and growth
Reduce costs
Increase cash flow
Improve profit margins
Spot and seize opportunities that competitors don't even see
Identify the biggest levers for performance improvement, and
implement changes that drive impact, fast
Add profitable new products, services, and features
Increase collaboration and effectiveness between team members
Transform and improve culture, employee engagement, teamwork
Achieve greater organizational performance and commitment
Gain organizational commitment to key goals and actions
Workforce development
Increase market share and expand into new markets
Implement powerful new metrics and systems
Change expectations and behaviors
Manage strategy execution
Help implement operational improvements
CFO financial management, interim and project-based work
Typical client results:
Achieved 15% revenues growth in CNC precision machining organization through execution of strategic plan and

implementation of Lean Manufacturing principles and managing business performance with KPIs.

.
Reduced operating costs by 3% within 5 months through deploying a tooling management system
Reduced raw material inventory turnover from 45 to 3 days through JIT/Kanban inventory management.
Reduced work in process inventory turnover from 52 to 15 days through implementation of JIT/Kanban inventory management.
Decreased machine set-up/changeover from 3 hours to 15 minutes through time study analysis.
Added highly-qualified suppliers which increased profits by 20% on components subcontracted out for machining.
Developed comprehensive machine-hour rate analysis that resulted in achieving 15%+ net income consistently year-over-year in CNC precision machining organization.
Reduced costs by $2M with development of a performance metrics scorecard and P/L accountability in financial institution.
Increased revenues by 25% within 12 months for roofing contractor through defining key objectives.
Increased profit margins by 23% in roofing contractor through implementing employee engagement initiatives.
Optimized accountability for functions, key processes, financial outcomes; established KPI metrics.
Reduced cash flow conversion cycle from 85 to 48 days through consultative financial management.
Improved employee engagement by 32% within 6 months by introducing communications strategy and coaching managers how to coach employees for performance.
Introduced values-based culture-building activities to decrease employee turnover to less than 5%.
Increased revenues by $6M in a software technology services company.
Assisted clients to acquire over $60 million in debit and private equity capital.
Developed marketing and sales strategy for new product in the lawn and garden industry. The result was the product was placed in two of the top three major Home Improvement retailers in the U.S. within 3 months of startup.
Sold our family-owned manufacturing company for 10x net earnings (industry average is 2x net earnings).
Have a project but not quite ready to reach out? Is Profit Strategies a fit for you?
Our Process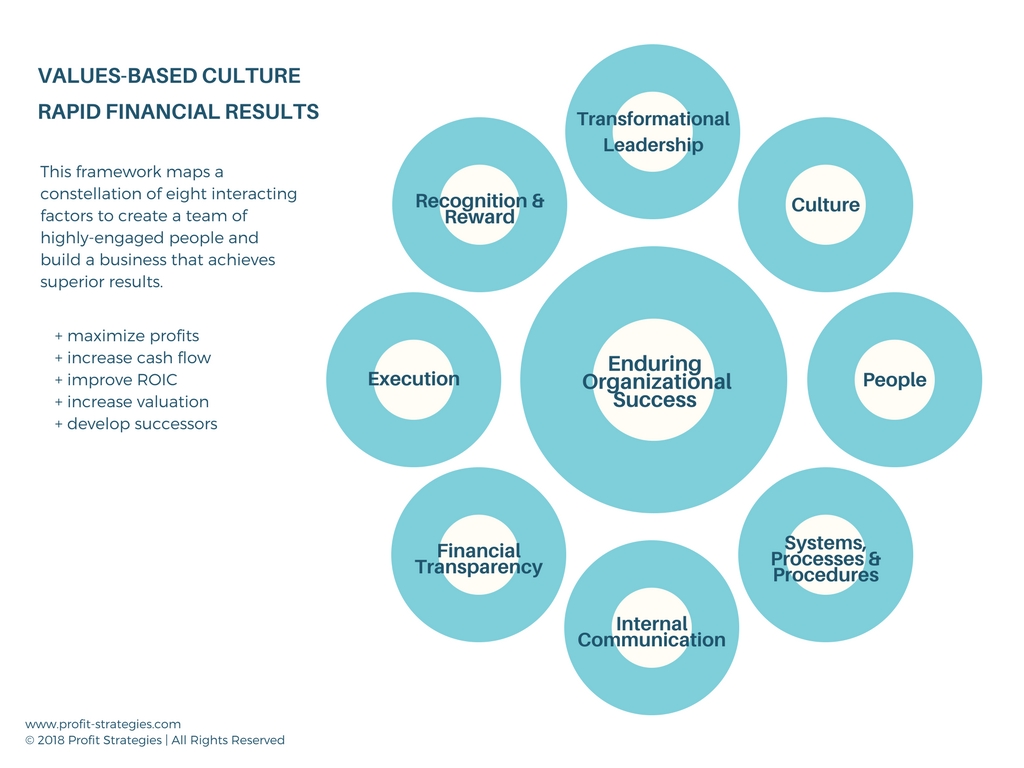 CFO Consulting Services
We can serve your business on a per-project basis or as a part-time CFO for a fixed monthly fee.
We do not force a standard CFO model on our clients. Instead, we consult with clients and help them identify their current and ongoing needs. There is no "one-size-fits-all" package. Everything we do is customized to your business, wants and needs to ease your company's financial challenges. Find out more here.
Business Coaching
For Business Leaders
We also offer mentoring and coaching for business leaders. Find out more here.